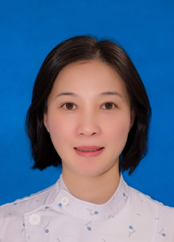 Hu Yin
Title:
Head Nurse, the Department of Obstetrics Associate Chief Nurse
Bio:
Education:

2005-2008 Zhejiang University Bachelor Degree
1988-1991 Midwives School Of Women's Hospital, School of Medicine Zhejiang University, Secondary Vocational School Diploma
Expertise:
Maternal-Child Nursing
Research Interests:
Family-centered maternal and child care
Research Narrative:
Hu Yin has been the head nurse of the maternity ward for six years in 2007, and established an maternity integrated ward in 2012 and served as head nurse for eight years. I have been promoting the "family-centered" obstetric service model, integrating the trinity of labor, childbirth and postpartum rehabilitation, and advocating the integration of pregnancy, childbirth, postpartum and neonatal monitoring into a continuous family life. Achieving maternal-centricity, which guarantees the safety of mothers and babies, and enables mothers to enjoy high-quality services, while meeting the needs of family members for medical services.
Publication:
Effects of point massage of liver and stomach channel combined with pith and trotter soup on postpartum lactation start time. J Obstet Gynaecol.2017 Oct:37(7):872-876.